Jewelry
Give the gift of locally made jewelry! These artisans create one of a kind pieces from precious stones, semiprecious stones, fossils, found objects, glass, metal, beads, clay and more.
As an Amazon Associate and participant in other affiliate programs including Etsy, we may earn from qualifying purchases from this page.
Showing results within 10 miles of zipcode 18951
Made with love in Philadelphia, Ginger creates fine gold jewelry that is eco-friendly and sustainable. She designs pieces that are modern and elegantly-bold for jewelry lovers that love to make a statement. Choose from an everyday piece, a one-of-a-kind design, engagement and bridal jewelry, or allow Ginger to custom design that piece you have been dreaming of that is uniquely you.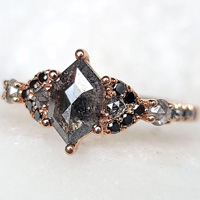 Metal Worx Jewelry Designz
(8 miles)
Eye Candy Glass Art
(9 miles)
Fine Jewelry from Clare Marshall
(10 miles)